Meet the Team
Get to know the faces behind Home Safari – Animal Assisted Therapy.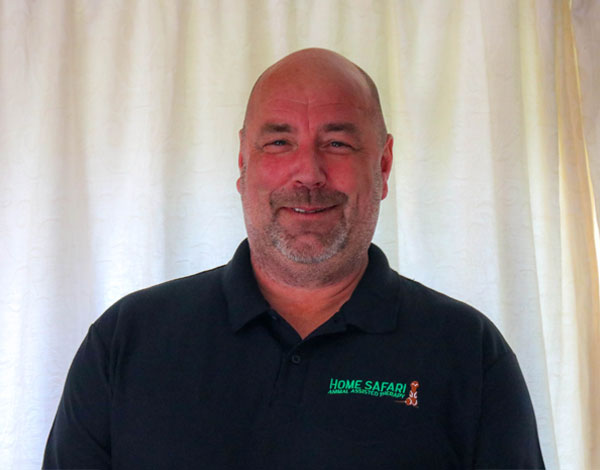 With more than 50 years experience growing up and dealing with animals, Steve has a vast knowledge of animal behaviour.
After a short time in hospital during the early 80's, Steve realised the health benefits interacting with his animals had. This ultimately led him to start Home Safari AAT.
Steve and his team have facilitated sessions of AAT/AAI for more than a decade. They've worked within the NHS and the private sector, from CAHMS to medium secure, including forensic and PICU wards. Steve has gone on to become a qualified AAT Practitioner Level 3. He has spent many years using solution-focused therapy techniques. As an EBE (expert via experience) in mental health, Steve has insight and knowledge about creating and facilitating sessions. This makes Home Safari AAT the UK's leading Animal-Assisted Therapy provider.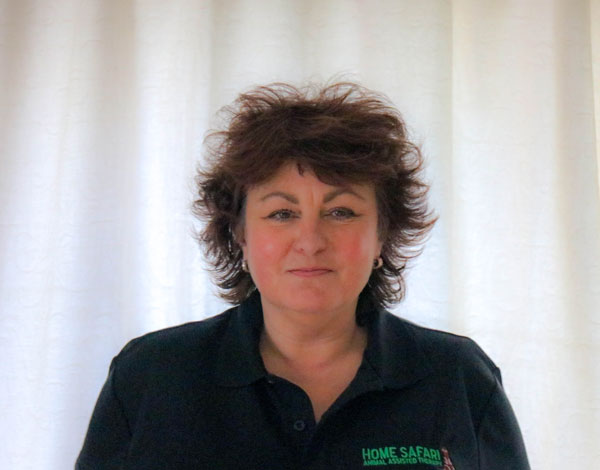 Hello, my name is Cheron and I am the wife of Steve and co-founder of Home Safari AAT. I have spent most of my life around animals, from frogs to rabbits and dogs. Then reptiles, exotics, and farm animals, all of which we keep today.
I'm a great believer in, and have a massive passion for, Animal-Assisted Therapy. This is because it helps people feel calm and relaxed when they're anxious. It also encourages them to get involved in activities when they're unmotivated. This can make them smile even when they're feeling low.
I feel very privileged to have such a career being around animals and using them to help people.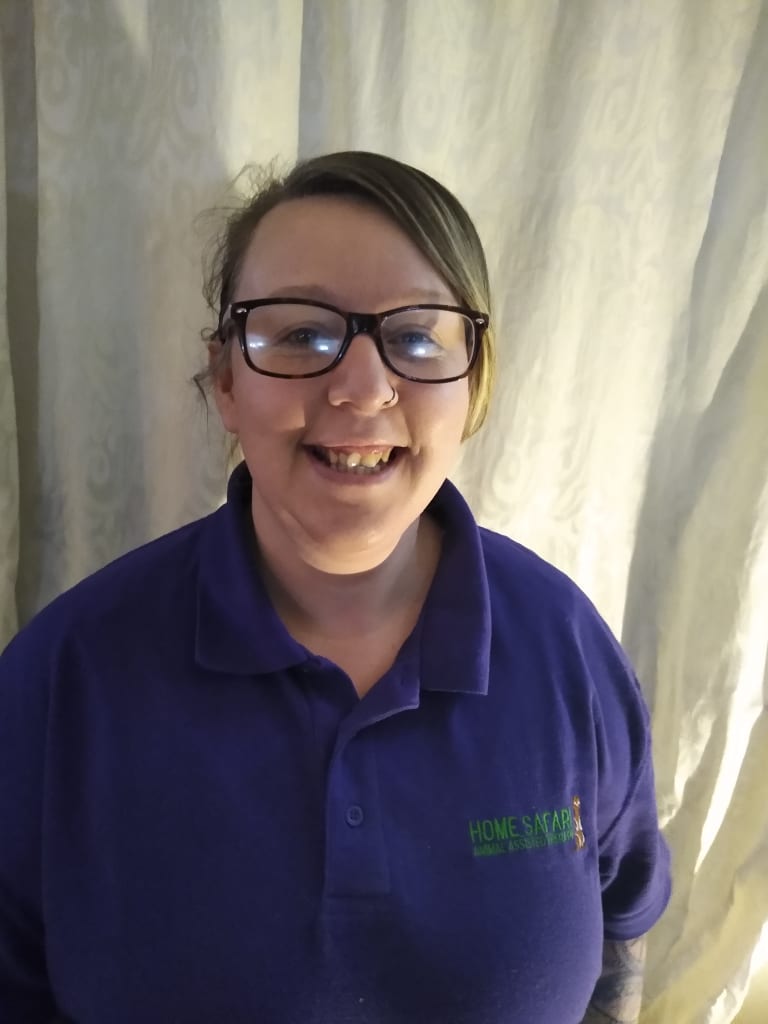 Hi am Kelly, I've worked in care for the past 10 years before working for home safari, but my true passion is animals, and doing this job is fulfilling a life time ambition.
I have had a wide range of animals through the years including dogs, rabbits, ferrets and reptiles. I also volunteer on a small holding working with farm animals which I love doing and hopefully in the future I will have my own small holding.
Since working for home sarafi I have seen how beneficial animal therapy is to people and the joy animals give to people.
Hi my name is Jo. I have always dreamed of working with animals from a young age and in 2016 my dreams came true. I was given a opportunity to leave my office job and to work on a working dairy farm which was also open to public. During this time I gained so much experience working with animals of all shapes and sizes.
I have experience with able and disabled people, I volunteer weekly at a children's club at a local care farm and I care for a child with additional needs. This led me to learn makaton sign language which I found to be an amazing skill and tool.
Im passionate about helping people and the effects animals can have on us, which then brought me to work for Home Safari Animal Assisted Therapy. All the skills I have learnt over the years brought together with animal assisted therapy make so many people smile and relax and bring happiness to them. The positive impact that our animals have on peoples lives is what makes my job so worthwhile.
Hi my name is Denise. I have worked for home safari for nearly 6 months. I previously worked within the care industry for 30 years. Doing hairdressing firstly and then moving onto an activity Co ordinator.
I am a mum of 3 children, 2 girls and a boy. I am also bringing up my nephew, who came to live with me at age 8. I have 3 beautiful grandchildren which I enjoy looking after regularly.
My hobbies are walking and swimming regularly. I also love cooking and gardening. My most enjoyable achievement is designing my garden from a bramble field. When it's finished I would like to do an open garden for charity. I would love to have another dog, but won't while still working.
Hello, my name is Niamh. I've been a massive animal lover my whole life and I've never been without a collection of animals growing up. A majority of our animals have been rescues, from cats, hamsters and Guinea pigs to leopard geckos and snakes.
I studied equine management & science at college and received my level 3 extended diploma. I also spent a couple of years doing voluntary work for a RDA riding school. Alongside working in the care sector, I have first hand experience with caring for people with learning disabilities and additional needs.
Having attended some AAT sessions with Home Safari myself, before volunteering & now working for them, I know personally as well as professionally how much of a difference the animals can make to someone's day and mood.
Interested in Animal-Assisted Therapy?
Just send us a message, using the form below, if you've any questions or wish to book an appointment.
Landline:   0151 531 1358
Mobile 1:   07507109996
Mobile 2:    07842713064